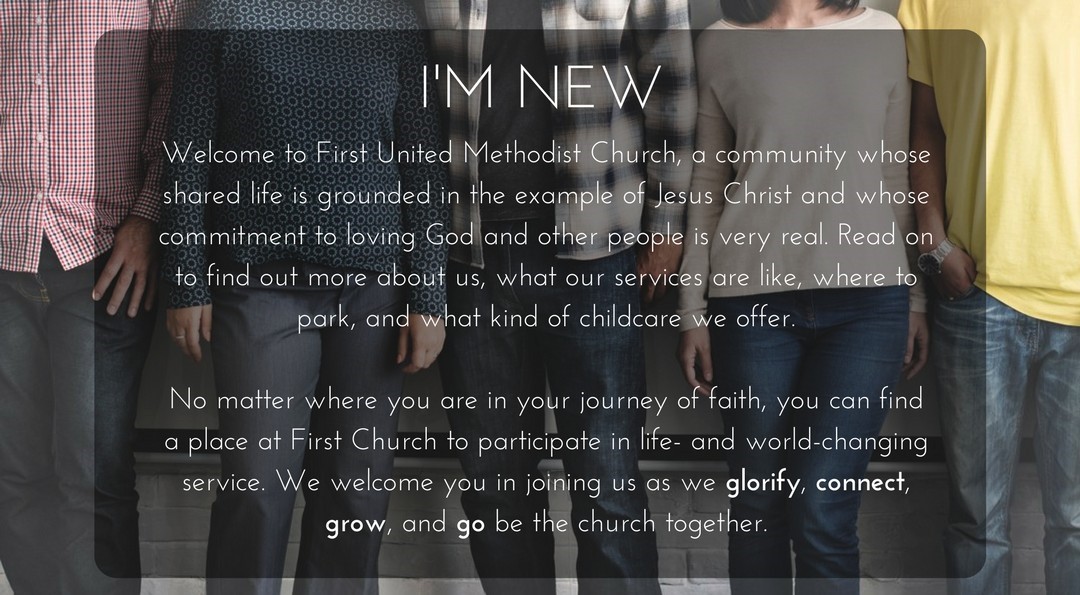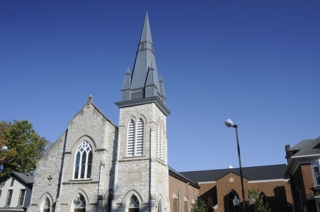 Who We Are
The First United Methodist Church has been a witness for Christ in downtown Frankfort since 1821. The Methodist faith traces its roots to 1739 and our founder, John Wesley. As a Church, we are deeply committed to community and world service. We welcome you and your family to worship services on Sunday mornings and to services and events throughout the week. First United Methodist Church has been witnessing in the capital of Kentucky for over 225 years.
What We Believe
We believe that Jesus Christ died for all and rose with the promise of eternal life. First Church is a New Testament Church. This means that we believe in one universal church. Rather than focus on differences between the United Methodist Church and other denominations, we identify with them holding the belief that we are all one with Christ. We also hold that every believer is a member of the universal church. As such, communion is open to all (not just members of First Church), and all are welcome to serve using their God-given gifts.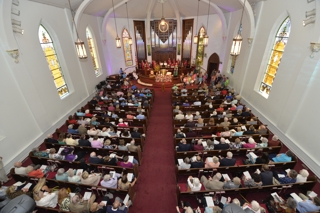 What to Expect
First Church offers both traditional and contemporary services to meet the needs and preferences of its diverse group of members. A typical Sunday service will last about an hour, starting with music to lead us in worship. Next comes a time for children, which offers practical, Biblical teaching and a time of prayer. We'll listen to one of our leaders deliver a sermon and finish in a time of giving with other believers. Communion is celebrated at First Church on the first Sunday of each month.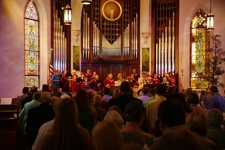 Our 11am traditional service, located in the Main Sanctuary, offers a sermon presented by the Senior Pastor, traditional hymns, and pipe organ music. It also features additional accompaniment from instrumentalists, as well as the Chancel and handbell choirs.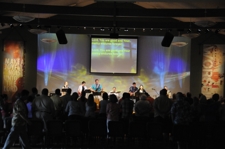 Our 9am contemporary services, located in Asbury Hall (up stairs of the Wesley Center), include a variety of music and visual/thematic support. Worship is led by the Senior Pastor and the Good News at Nine (GNN) Praise Band.
WHERE TO PARK
Limited on-the-street parking may be available on Washington Street. During the week many of the spaces have a two hour time limit. There are several handicapped spaces in front of the church. Other options include:
Parking behind Paul Sawyier Public Library
Municipal Parking at the downtown parking structure (enter from Wapping or Main Street)
Capital Plaza covered parking structure (accessible from Clinton)
CHILD CARE
Children are welcome in all of our services, but we make accommodations for those that need them. A nursery is available for our infants to three-year-olds from 9AM to 12PM every Sunday. Pagers are available for parents. During services (and subject to COVID protocols) a Prayground is also available for the children to absorb worship in an age-appropriate setting and "Little Church" is offered to our children second grade and younger for a time of learning about worship and the day's theme. Nursery staff and Little Church leaders are background checked and trained according to our Safe Sanctuaries policies.